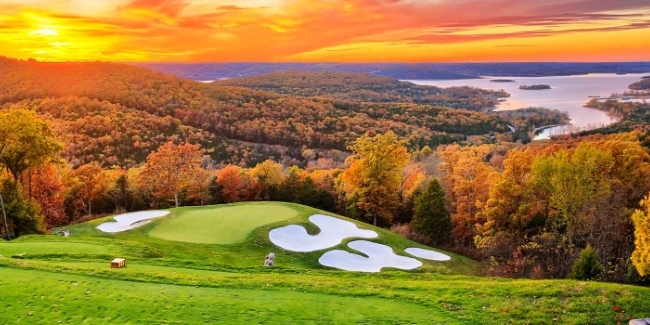 Branson/Lakes Area, Missouri Golf Guide
Golf's Ozark Mountain Oasis
A fine, refreshing spray wafted over us as we viewed the towering waterfall from inside the "Lost Canyon Cave" next to Top of the Rock Golf Course when the "Eureka!" moment hit me. This enchanting natural wonder has cascaded for centuries and was probably as mesmerizing to Native American Indians as it was to our group.

A similarly inspiring realization hit me as we sat in the Welk Resort Branson theatre watching Elvis, Jerry Lee Lewis, Carl Perkins and Johnny Cash do their legendary thing in the excellent "Million Dollar Quartet" musical play - destinations are infinitely better when they've got after-golf activities the likes of this boutique town in southwest Missouri.

Branson is so unexpected, so eclectic and so good that you should consider it next time you're looking for a fun, different getaway. It is a rising-star golf destination to be sure, but its many off-course options make it a complete "place," where there are interesting things to do and see around the clock.
In Branson's case, these include entertainment and outdoor recreation, thanks to dozens of theatres, as well as museums, lakes, shopping venues and family-friendly activities. This is a place where leisure choices are plentiful and diverse.

The Golf

The number of Branson golf courses is expanding quickly thanks to Bass Pro Shops Founder Johnny Morris. He owns two - Top of the Rock and Buffalo Ridge - and is building two others, all amenities of highly acclaimed Big Cedar Lodge. The first two were designed by Jack Nicklaus and Tom Fazio, respectively, and the two to come are being "authored" by Gary Player and Coore & Crenshaw.

If the first two are any indication, the next two will be jaw-droppers; virtually everything Morris builds is first class, with no stones left unturned and exceptional experiences par for the course.

My group of six golfers played Top of the Rock and Buffalo Ridge. The first is a par-3 course perched hundreds of feet above Table Rock Lake. The views are stunning and the golf is professional grade; the Champions Tour players who compete on it each spring in the Legends of Golf tournament routinely give it top marks.

While the layout is both challenging and fun - with views as fine as exist anywhere - the practice facility is equally enthralling thanks to a spectacular, all-synthetic turf driving range designed by Arnold Palmer. A Tom Watson-conceived putting course called "Himalayas" - due to the mounds and undulations that comprise it - completes the facility, all capped with first-rate customer service from arrival to departure.

A multi-use structure that houses restaurants, wine and whiskey bars, golf and merchandise shops - even the Ancient Ozarks Natural History Museum - ensure that everyone leaves knowing that they experienced a special, unique place.

Buffalo Ridge and Top of the Rock are complementary in the extreme. Where TOR requires a series of precise shots, mostly irons, Buffalo Ridge is 18 holes of yawning fairways and large greens. Players who drive the ball well on this brawny layout will appreciate the benefits that affords their game, and everyone appreciates the ingenious design that includes waterfalls, creeks and acres of undisturbed terrain surrounding the course. There are even Buffalo that range adjacent to the course and can be seen from quite close.

The Branson/Lakes Area offers a number of other worthy golf venues - all open to the public - including LedgeStone, Branson Hills, Thousand Hills, Pointe Royale and Holiday Hills.

LedgeStone Country Club features tree-lined fairways, undulating terrain with significant elevation change, and large greens with speedy, true putting surfaces. Each hole is named and they form a compelling collection with great variety. Temptation, Sycamore, Deception, The Slot, Tough Love, The Quarry, Sidewinder, The Wall... the names are more than just catchy monikers, they're descriptive enticements that pay homage to the defining characteristics and decisions to be made.
Read the Rest of the Article >> »
---
Stay at the Sawgrass Marriott Golf Resort & Spa
The Stadium Experience
Stay at the Sawgrass Marriott Golf Resort & Spa and enjoy breakfast daily and privileged golf access to the legendary Stadium course at the adjacent TPC Sawgrass.

Stay two nights at Sawgrass Marriott with breakfast each morning and play two rounds of golf at the TPC. One round at The Stadium Course and one round at Dye's Valley Course. Packages are built for one, two and four people.

The Stadium Course sports one of the most challenging holes on the PGA TOUR - the notorious hole 17.

Dye's Valley Course at TPC Sawgrass is the sister track to the world-famous Stadium Course. Boasting perfectly manicured surfaces and water on every hole.

---
Golf Packages & Specials for Pinehurst
Home of American Golf
With 40 world-class courses within a 15-mile radius, including the host course for the 2014 U.S. Open and U.S. Women's Open Championships, it's no surprise that in 2013 Golf Digest ranked Pinehurst, NC the #4 "Best-Buddies Trip Destination." It is also the highest ranked destination on the East Coast.

Nestled in the rolling Sandhills of central North Carolina, the Pinehurst, Southern Pines, Aberdeen region was the long-time home to the father of golf course architecture, Donald Ross, and is home to many of his masterpieces and some of golf's most memorable moments. So whether you're playing the legendary courses, enjoying the timeless southern charm or taking part in the region's storied traditions, there's no other place in the world quite like the Home of American Golf.
View Winter and Spring Golf Packages »
---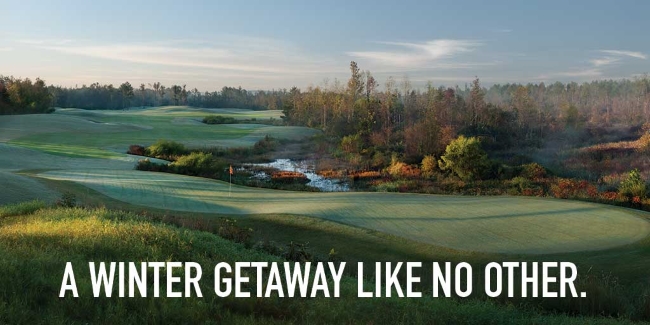 Alabama Golf Packages
Golf The Robert Trent Jones Golf Trail
Take advantage of the best rates of the year with these Winter Specials from the Trail:
Winter Stay and Play

Play one round of golf on the Trail and stay one night at the on-site Resort Collection hotel. Prices include cart and unlimited range balls and are per golfer based on double occupancy. Stay and Play specials are valid at:

Capitol Hill; Prattville: Play one round at Capitol Hill and stay one night at the Montgomery Marriott Prattville Hotel & Conference Center for $144 plus tax (add $10 for each round on the Judge course).

Lakewood Golf Club; Point Clear: Play one round at Lakewood Golf Club and stay one night at the Grand Hotel Marriott Resort, Golf Club & Spa for $145 plus tax.

Ross Bridge; Birmingham: Play one round at Ross Bridge and stay one night at the Renaissance Ross Bridge Golf Resort & Spa for $157 plus tax.

Valid November 6, 2015 - December 31, 2015.